Hall Farm House has three bed & breakfast bedrooms available. All our rooms include those little extras - from shower gel to sewing kits - to help you feel comfortable in your 'home from home'. Please see below for the specifications of each bedroom. Each room sleeps two people, and we also accommodate dogs. All prices are of course inclusive of a cooked breakfast!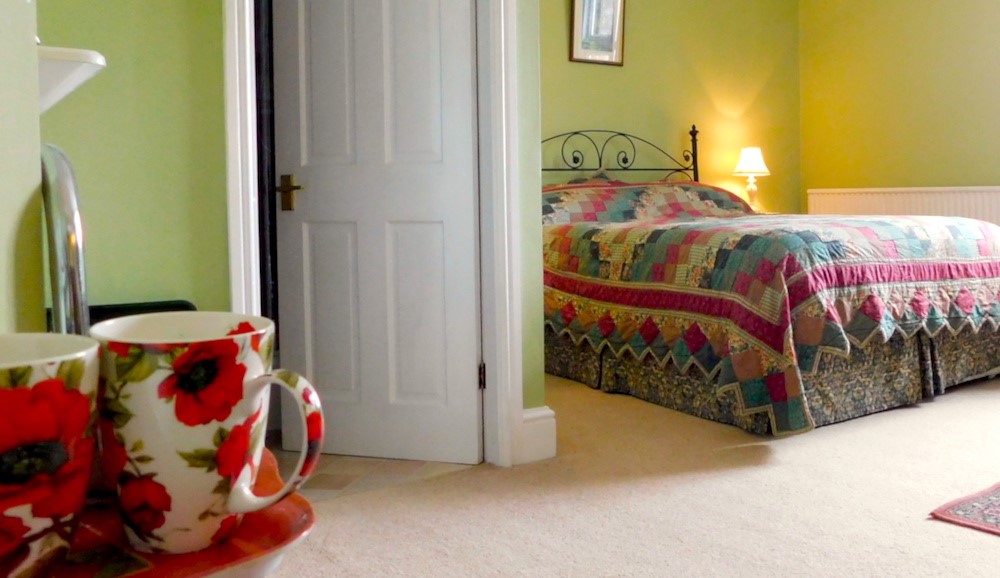 Bright & airy double with homely touches
Double bedroom with ensuite bathroom
£85 Per Night
A large yet comfy double bedroom that sleeps two. Ensuite bathroom facilities include a toilet, sink, and shower cubicle. There is also a pullout sofa bed that can enable this room to be used as a family room. This room has views of the rear of the house, overlooking fields.
Tea & coffee making facilities | TV with channels & lots of DVDs | Internet access | Towels are provided, along with a dressing gown and slippers | Free onsite car parking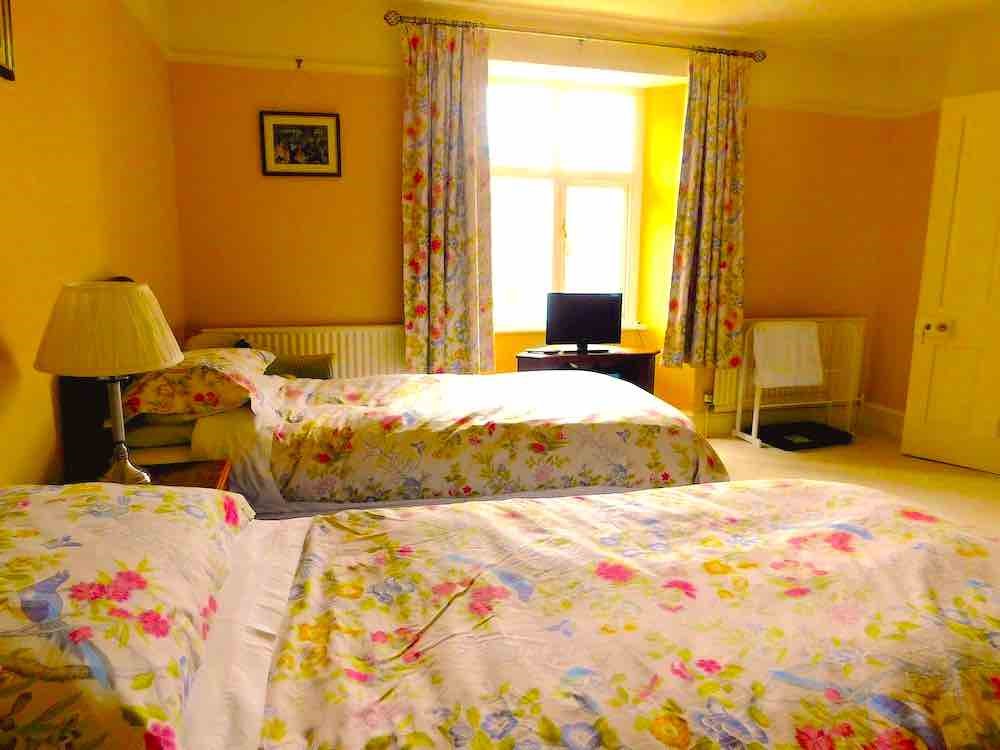 Twin room - Great for friends or families
Twin bedroom with separate bathroom
 £80 Per Night
This twin bedroom features two single beds as well as a sink. The bathroom is located a short walk away along the landing. This twin room overlooks the local village.
Tea & coffee making facilities | TV with channels & lots of DVDs | Internet access | Towels are provided, along with a dressing gown and slippers | Free onsite car parking
How to Book your stay at Hall Farm House
At the moment there are a few different ways to book your stay at Hall Farm House. The easiest of these is to give us a call on 01298 872172.
Booking online? At present, you can book online using the Guestlink portal via the visitpeakdistrict website.
We accept payment for the room by card, cash, cheque or bank transfer.
Family groups or individuals
We can sometimes cater to groups of more than two, by utilising the spare sofa bed in the back double room. Please contact us via phone or email if your group is larger than two.
We are also happy to host individuals in our rooms – our surcharge for individuals varies depending on the season. Please contact us if you'd like to book your room for one.
Arrival & Departure
On arrival to Hall Farm House you are generally greeted by either Annette or Fraser. We request that all guests fill in a simple 'sign-in' sheet on arrival, and also give you a menu so you can let us know your choices for breakfast the next morning.
Check-in time is generally anytime after midday but we request that you give us an estimation of your arrival time in advance of your stay.
We request that rooms are vacated by 10.30am. However, if you wish to fit in a last walk before you go we are happy for you to leave your car parked at Hall Farm House.
Dog Policy
We are happy to host your pet dog on the property, but we request that you are mindful of other guests. We will not take responsibility for your dog, and therefore request you do not leave your dog alone in your room while you go out in the day or evening. Read more about our dog policy on our booking terms & conditions page.
Smoking
There is no smoking allowed anywhere in the house. There are linked smoke detectors fitted to all rooms and communal areas for your safety. The use of vape pens is also not permitted while inside the residence.
Accessing the Property
All bedrooms are on the first floor of the property, which is up a flight of stairs. The twin room has a separate bathroom that is a short walk across the landing. This is lit at night.
There is ample parking close to the property, with access along a short path next to the allotment (approximately 30 metres) much of which is gravel. There are four steps up to the backdoor.
If approaching the house via the front, there is a small step at the gate, a path (approximately 10 metres) and two steps into the house.
We are very proud of our home-cooked breakfast, which includes eggs from our own chickens, local produce and homemade bread. We also cater to vegetarians & vegans. You can view a sample breakfast menu here.
Hall Farm House is easily accessible from Sheffield by public transport. You can also make use of our private car park when you come to stay on the property.
We chose to base our bed & breakfast accommodation in the Peak District after falling in love with the natural beauty of the local area. Litton village, where Hall Farm House is based, is a good location for exploring the wider area.