The local area
We (Annette & Fraser) have been running Hall Farm House bed & breakfast for over twenty years. We've lived in the Peak District since the late seventies, and are always happy to offer advice about things to see and do in the local area.
The village of Litton is well-known in the area for hosting regular events such as traditional well dressing in summer. It is well-served by a local pub and a small shop, and is accessible via public transport or car.
We didn't just choose to set up our bed & breakfast in Litton because of the great community. The Peak District holds some of Britain's most picturesque landscapes, resplendent with rolling hills, drystone walls, and plenty of trees. Chosen by walkers, cyclists, and holiday-makers alike, there's lots of things to see and do in some spectacular surroundings.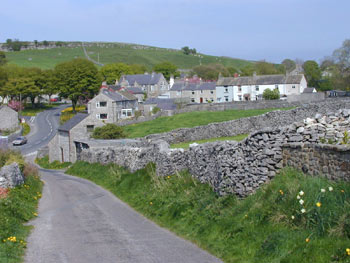 The history of Hall Farm House
The history of Hall Farm House as a farm property can be traced back to the early 20th century. It is reported that Lord Curzon, who owned a lot of land around here, sold off the land on which Hall Farm House was built with around 256 acres – which we believe carried mainly livestock. A number of years ago a guest told us they knew the house when it was the farm and said the kitchen and utility room were part of the dairy, hence the wide doors and flag stones that were originally in place. There are also the remains of the cowshed in the yard. Hall Farm House itself continued as a working farm property until 1972.
In researching the history of the local area, we have also discovered that there has been a dwelling where Hall Farm House is possibly since the 17th century. A book titled 'The Apostle of the Peak' discusses a local preacher called William Bagshaw who was born in Litton Hall in 1628.
The house itself is indicative of much of the architecture found in the Peaks – with long, sash windows, high ceilings and rock mined from the local quarries. Today, several of the original surrounding farm buildings have been refurbished into a holiday home and storage space. However, we still pay a small tribute to the Hall Farm House's origins by keeping our own livestock in the form of two dozen chickens!
You can check availability and book a stay at Hall Farm House via the Peak District website. We are also happy to take bookings over the phone – just give us a call at your convenience on 01298 872172
Hall Farm House has three comfy bed and breakfast rooms available, two of which have ensuite bathrooms. The third is a twin room. We are also happy to accommodate dogs if you wish to bring your four-legged friend to stay too!
Find out more about things to do in the Peak District area. We chose to base our business in Litton due to the beautiful surroundings and easy access to local cities, towns, and tourism spots – including Bakewell's famous puddings!